Our Chief Executive Officer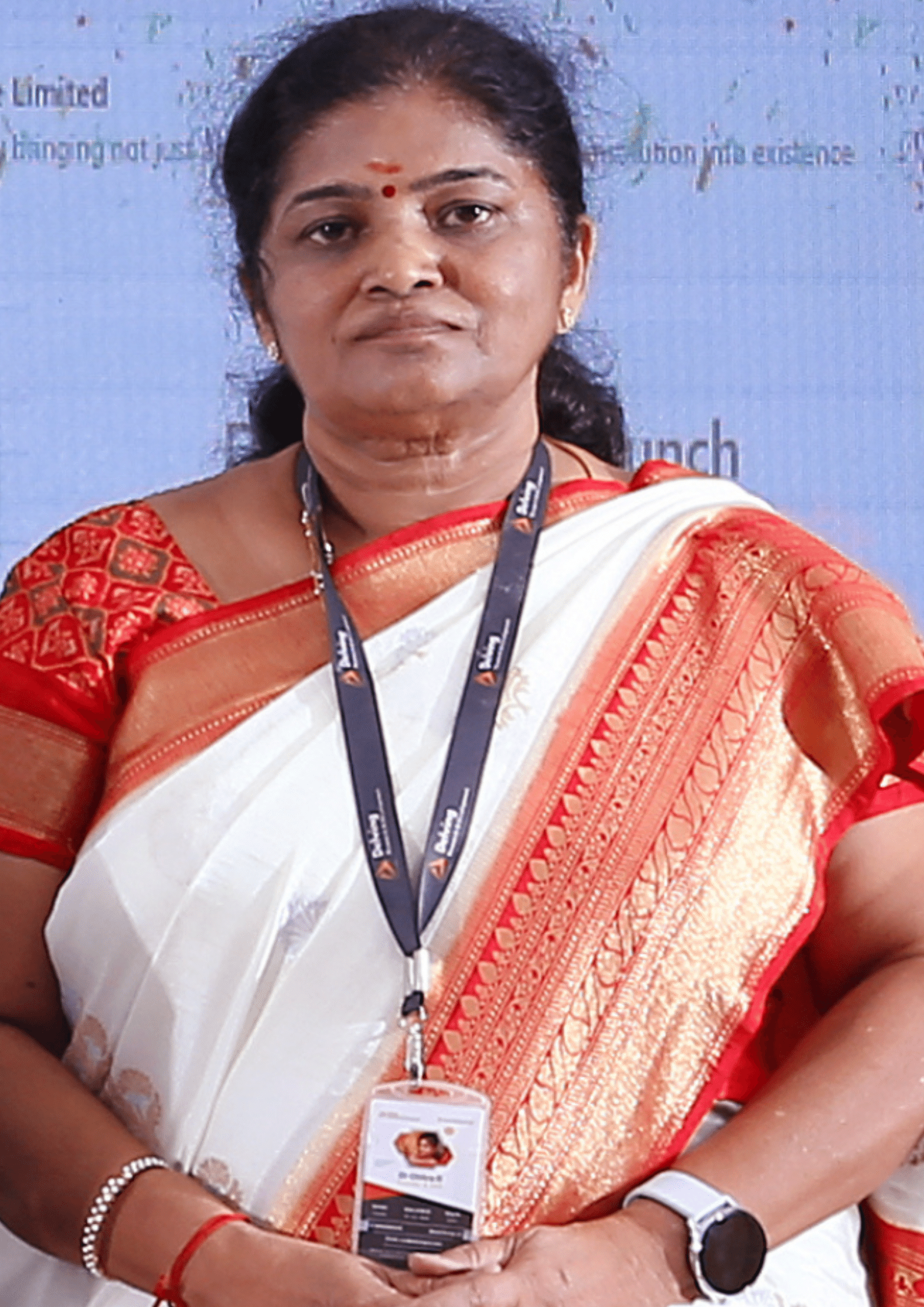 Dr. Chitra R, M.E., PhD., M.B.A., M.C.A., A.D.I.T.
Founder&CEO, Delving R&D Pvt. Ltd.
Founder & Partner, Delving Energy Ecosystems Consultant (DSM, Energy Conservation, IoT)                                                                                                                                                      Visiting Professor-Academic Institutions Keynote Speaker Smart Meter Grid, IoT                                                                                                                                                                                  Ex-DGM (VRS) TANGEDCO                                                                                                                                                                                                                                                                            Mobile: +91 98949 95235
E-mail: chithraswamy23@gmail.com
53-2, 3Rd Cross, M.K.P. Colony, Ganapathy (P.O) Coimbatore – 641006, Tamil Nadu, India.
She did her doctorate at PSG College of Technology, Coimbatore, Anna University, Tamil
Nadu for the thesis & Pragmatic Methods for optimization of low voltage distribution network
in the Indian scenario" analyzing and proving line loss reduction through active and reactive
compensation.
Good domain knowledge and work experience in electrical (16 Years) and Information
Technology (15 Years) with unique administrative skills. She has worked in the kadampaarai
pump station, wind form maintenance, substation, distribution, and information technology
domains of Tamil nadu electricity board.
7 Years experience in building the startup from SaaS products in various domains to
innovative Industrial IoT products.
Information Technology (IT)

Network administration of LAN and Intranet networks
Database administration of oracle database
She has worked in SCADA and ADLS Systems of Electrical Utility
Design experience in application packages of electrical utility like Billing software,
Inventory management system, Consumer indexing and Customer care. Five years of
Experience in handling consumer billing package
Engineering Domain Expert with requirement analysis skills to customize the application
packages.
Dr. R. Chitra is the founder of two startups, Delving Research and Development Private Limited and Delving Energy Ecosystems. She started the organization with the vivid vision to create and provide research ecosystems and develop IoT products and processes that will help transform society. 
Delving Research and Development Private Limited, Commencing in October 2015, has been recognized by Startup India (DIPP2550). The Specialized software is the result of the doctoral research of Founder & CEO Dr. R. Chitra, the Reduction of energy losses in low voltage distribution networks and industries resulting in cost savings. This diversified experience helps us to understand our customers' needs to build the best improvements to our products. Our main products include Multi Features IoT Smart Energy Meter (MFISM), Dynamic Reactive Compensation Unit (DRCU), Maximum Demand Controller, etc. Delving is the recipient of a Certificate of Merit from India Smart Grid Forum (ISGF) Innovation Awards 2022 for the award category of "Smart Startup of the Year" and was selected for a Pilot Execution in Powerthon 2022 under the ministry of power

Delving Energy Ecosystem is a partnership firm, that commenced in February 2022, and has been recognized by Startup India (DIPP107171). DEE Started with the vivid desire to contribute to society in terms of energy-efficient ecosystems with embedded intelligent IoT integrated wIth Software. DEE validated an innovative product, IoT Based DISTRIBUTION TRANSFORMER MEASURING, MONITORING, and CONTROLLING MODULE (DT-MMCM). MMCM is a concept of measuring transformer physical parameters along with electrical parameters through an IoT-based Smart Meter for energy loss reduction with active compensation and reactive compensation. It also aids in the automation of the Electrical Distribution Network by integrating with smart MCCB and IED. It will be used as an effective tool for loss minimization of the Distribution Network. This Product will be scalable to industrial customers and electrical utilities across the country.
Recipient of the "certificate of merit" award from India Smart Grid Forum (ISGF)

Innovation Awards 2022 for the category of "Smart Startup of the Year".

Has presented a paper on the topic of "Multi-Features IoT Smart Meter for Low Voltage
Distribution Loss Reduction" in Conference on Power Reforms – Process, Expectation & 

Achievements at Gujarat conducted by a central board of irrigation & power.

Presented the product in POWERTHON 2022 for the problem statement "AT & C Loss 

Reduction" and the proposal for POC has been accepted by the Ministry of Power

Government, India with an offer letter directing to prove the concept in Madhya Pradesh 

Poorv Kshetra Vidyut Vitaran Company Ltd (MPPsKVVCL).



As DGM/Information Systems, TANGEDCO (FORMERLY TNEB) she was a core member of the 

IT team to get sanction (around 400 crores) and funds from the Ministry of Power, (Nodal agency

 being Power Finance Corporation(PFC) for IT-enabled activities across Tamil Nadu, 

India (2009)

Prepared detailed project reports (DPR) of IT-enabled electrical systems and processed 

Restructured Accelerated Power Development and Reforms Program in 110 towns of 

Tamil Nadu, India with PFC, Delhi, India. (2008-10)



Fellow of The Institution of Engineers (F-1141785), India, selected based on Contribution 

to the Electrical Engineering Industry.

She has delivered lectures in US-aid National programs of TNEB for delegates across the 

country. Published and presented papers in leading National and International 

conferences and journals like Elsevier, Central Power Research Institute (CPRI), etc.



The innovative product Multi Features IoT Smart Meter (MFISM) is going to be the most 

productive invention as it can be customized as smart energy meter, Dynamic reactive 

compensator unit (DRCU), Smart IoT for industries and smart transformer monitoring 

system (STMS).

With Salzer Electronics as industrial partners she has implemented pilot project on-line 

monitoring system of Low voltage distribution network with remote metering done in 

distribution transformer up to consumer end (2009-2013)

Successfully commissioned ADLS (Automatic data logger system) in six substations of 

major city in coordination with ABB Bangalore, India,(2009-2013)

Conducted research activities in distribution automation and distribution optimization of 

electrical utility and validated the results in Central Power Research Institute

Guided an innovative paper presented in VI Mantra contest conducted by National 

Instruments which recommends embedded design of DTMMM (distribution transformer 

management and monitoring module) in substitute total monitoring system for ensuring 

healthiness of distribution transformers thereby reducing the failure rate of distribution 

transformer and minimize electricity interruption to consumers